Small Changes, Big Style
---
Bathroom Taps for Sale.  Bathroom Tap Restoration
An easy and inexpensive way to bring a touch of something new to your bathroom is by purchasing new and interesting bathroom taps. At The Bath Business we have a number of unique bathroom taps for sale, and we also offer tap restoration. Tap restoration is a great idea when you have bathroom taps you love but just need a little extra work to make them like new again. A different shape or finishes are simple ways that designers make bathroom taps new and exciting.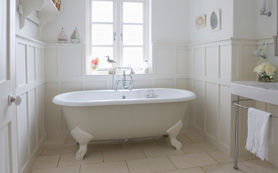 Some of our most popular bathroom taps for sale are finished in chrome, which gives your bathroom a very modern feel. Other popular finishes for bathroom taps include polished & brushed nickel and also gold. If you're looking for something very different, you should consider ceramic bathroom taps for sale. Ceramic taps are available in decorative designs and can really add an attention-grabbing touch to your bath.
There are some bathroom taps for sale which are pieces of art by themselves. Shapes such as dolphins or mermaids make taps a decoration. Another thing you'll want to consider when looking for bathroom taps for sale is how many handles you'd like and whether you would like lever handles or crosshead handles. One two or three handles sets are most common. Two handles, one for hot and one for cold, is a traditional choice, but one handle is also popular, and is practical because you can use it when you only have one hand free. Newer bathroom taps have no handles whatsoever and are motion-sensor, turning on or off with the wave of a hand.
If you already have bathroom taps that you love, why not opt for tap restoration instead? The Bath Business specializes in tap restoration, especially for Victorian, Edwardian or original Art Deco taps and other antique bath fixtures. Tap restoration is an easy way to update the look of your bathroom with what you already have. We can even add on a different finish during a tap restoration for a completely new look.
Whether you're interested in a tap restoration or are looking for bathroom taps for sale, The Bath Business is the premier UK company for all things bath-related. Browse through our products, and then contact us for information about how you can create the bathroom of your dreams.
Adding Classic Victorian and Edwardian Touches to Your Bathroom
Getting Something New Out of Your Old Bath
Complete Bathroom Suite Restoration
Maintain Antique Fixtures with Restoration Services
Discover Popular Trends for Luxury Bathrooms
Bring Back the Past with Art Deco Baths and Sinks
Vintage Bathrooms: Contemporary Meets Classic
Spice Up Your Bathroom with New Bath Accessories