Tap Refurbishment & Replating
---






Another service we can provide is tap restoration or reconditioning and re-plating. We can restore and re-plate Modern, Art Deco, Classic and Vintage original Antique Victorian or Edwardian Taps.
If your antique Victorian taps are dripping or very stiff and hard to turn correctly, affected by lime-scale or even not working at all then you can send them to us for restoration in the work shop. The tap can be restored and good to use again for another 100 years! We are then able to have them plated in Chrome, Silver Nickel or Gold. Alternatively you can have the taps fully reconditoned and then polished. This is more popular with antique Victorian or Edwardian taps. They can look quite spectacular. For the plating process the taps are chemically stripped and then polished to a flawless finish before being re plated to customers specification. Chrome plating is very popular but Nickel plating proves the most popular for Victorian bathrooms. Below are some typical GLOBE TAPS that have been fully restored and plated. They could also have been finished in polished brass and would look equally fantastic.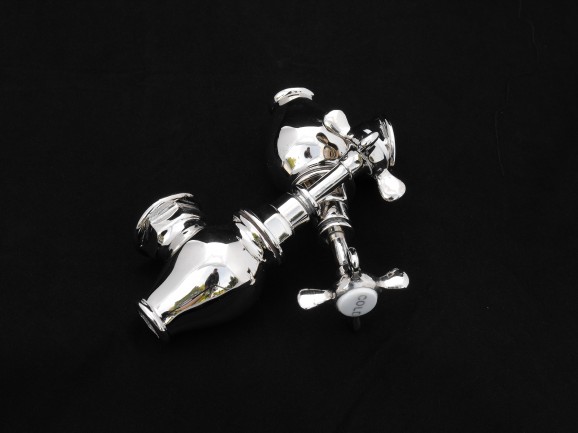 Once the taps have been restored and plated we then test them for a second time and make sure they are working perfectly. The process is well worth doing and the end results can be truly beautiful. For taps that are originally finished in brass you may wish to have them polished after reconditioning rather than have them plated. This finish does look fantastic. It does require more maintenance and polishing to keep them in the pristine condition they arrive in from our workshop. Due to this some of our clients prefer the Silver Nickel over the Brass finish but both finishes look great in a traditional bathroom. Below is a traditional restored Bath/Shower Mixer tap in a polished brass finish.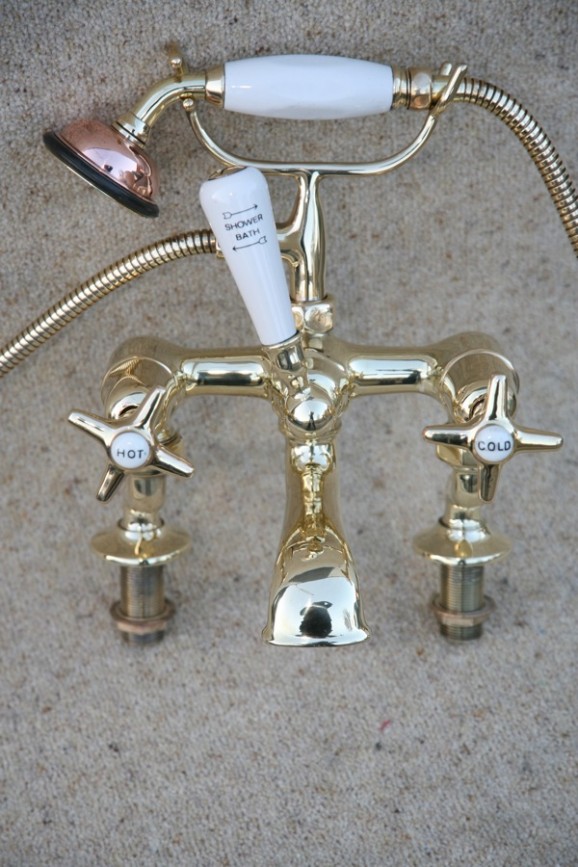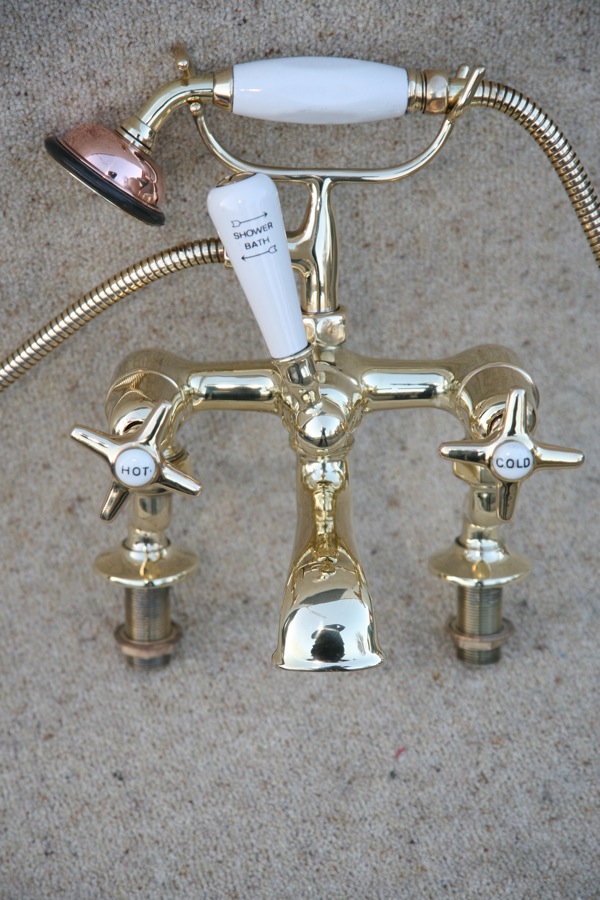 You may have bought a lovely antique bath to restore or wash hand basin and require the taps to be restored as well. Or you need the new taps made to look in keeping with the bath and therefor wish to have the taps re plated. Art Deco taps reconditioned and re-chromed can look absolutely stunning in a modern bathroom. You may be lucky enough to own some original antique Victorian or Edwardian taps. A completly unique look can be created with a modern bath fitted with luxury antique taps fully restored. Restoring bathroom taps can provide a new lease of life and rejuvenate the whole look of your bathroom. Perhaps you simply want to change the look of your modern taps by re plating them in a different finish. If so we can help you. We can also restore the feet on cast iron baths. Original Ball and Claw feet can come to look very old and rusty over time. Once we clean them up and Silver Nickel or Chrome plate them. They look absolutely stunning! Having your taps restored can be the perfect finishing touch to your newly resurfaced bath. If you do decide to have your bath taps or basin taps restored you will need to have a plumber remove them and have them sent to our workshop. Contact us via the quick quote form and we will provide you with a quote. If you can also email us a picture of your taps or claw feet with pertinent data on any problems you may be having as well as the desired finish that would be most helpful. If you can also send us sizes or even place the taps beside a ruler or such to give an idea of size that would be great. Our email address is thebathbusinessuk@hotmail.co.uk. Alternatively call 01342324577 and ask to speak to Teresa Kane. Alternatively we do have a fantastic supply of high quality bathroom taps and brassware to choose from.