Complete Bathroom Suite Restoration
---
Bathroom Suite Restoration. Bath Re-enameling and Restoring Bathrooms Expert
If you're looking for a complete bathroom suite restoration, you've come to the right place. The Bath Business specializes in restoring bathrooms to their original condition – or better! This can include anything from bath re-enameling to repairing cracks and chips in an antique sink. Here are some of the bath suite restoration services we offer: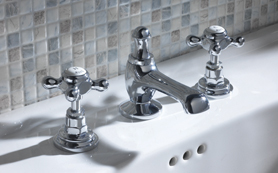 Repairing cracked or chipped sinks. After much diligent researching and perseverance, we've found a technique for fixing cracks in old sinks. Particularly beneficial with antique wash stands that may have had to be scrapped without our services. In the past, it was difficult to properly repair a cracked or chipped sink or wash stand. There was always the possibility the crack would continue to grow and cause more damage after being repaired. However we can now repair damage such as cracked sinks. We have even repaired antique sinks which have parts missing out of them! And since perfecting our new technique, we're now able to offer warranties of our work on cracked sinks.
Full bath suite restoration. If you're going to have a bath re-enameling done, why not restore everything at once with a complete bath suite restoration? Restoring bathrooms and all their parts is our specialty. When we take care of your bath re-enameling we can also resurface  your toilet and sink. This way, everything will match and look equally new.
Restoring taps and other fixtures and fittings such as wastes or metal overflows Antique taps are gorgeous, but they can begin to lose some of their original luster as they age. Also, they may start to leak or become difficult to turn fully on or off. We can refurbish these fixtures completely and make them look just as they did when they were first made. We can also polish brass antique taps or plate them. Many original Victorian taps would have been silver nickel plated rather than chrome plated. Or, if you'd like to change the look, we can plate them in a different material, such as gold or chrome.
Shower tray restoration. Restoring shower trays is similar to bath re-enameling. Shower trays come in a variety of materials, and we can easily restore any of them. Normally a shower tray has been tiled in so removing it and replacing the tray for a new one can be extremely expensive.  However the restoration can be done right on site, so no tiles or anything else needs to be disturbed when restoring the shower tray. Thus saving on time, effort and expense.
The Bath Business is in the business of restoring bathrooms. Whether you're simply looking for a bathre-enameling or are envisioning a complete bath suite restoration, The Bath Business can make your bathroom everything you want it to be.
Maintain Antique Fixtures with Restoration Services
Discover Popular Trends for Luxury Bathrooms
The Top Luxury Bathroom Brands
Bring Back the Past with Art Deco Baths and Sinks
Small Changes, Big Style
Vintage Bathrooms: Contemporary Meets Classic
Spice Up Your Bathroom with New Bath Accessories
Adding Classic Victorian and Edwardian Touches to Your Bathroom
Getting Something New Out of Your Old Bath