Renewing a Bathroom Suite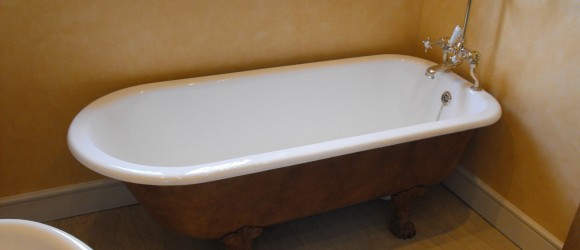 If you have a bathroom suite which is no longer looking its best, or perhaps is a colour that you don't like any more, then instead of ripping it all out and replacing, another option is to have the entire suite resurfaced or re-enamelled as it is often referred to. This is a more eco-friendly approach to renewing a bathroom suite and the process is a lot less stressful than replacing the whole suite and having to redecorate etc.
Resurfacing, re enamelling, refinishing and reglazing are all terms used to describe basically the same thing. Each is a process of restoring the bath or bathroom suite to its original condition. Any chips or damage are repaired and then the bath is resurfaced.  Making the bathtub look and feel new again. This is generally done in situ. The whole suite can be resurfaced in the same fashion. So the toilet and wash hand basin are resurfaced or re enamelled in the same fashion.
A dated avocado bathroom suite can now be restored to white and, depending on the style, made to look ultra modern. Or if you are a bit adventurous you can even have the whole bathroom suite re enamelled to BLACK!
The entire suite can be resurfaced in situ. Often grey or green suites are being resurfaced to white. Some people are having their whole bathroom suite resurfaced in pastel shades of blue, pink or yellow. If need be the suite can be delivered to specialist bath resurfacers and done off site whilst you finish your other bathroom renovation projects.
Any style of bathroom suite can be resurfaced or re enamelled. Traditional Victorian bathroom suites, 1920's Art Deco bathroom suites and modern bathroom suites, including jacuzzi and corner baths. The outcome is a suite that is rejuvenated and once again looking attractive as well as being very easy to clean.
Any type of bathroom suite can be resurfaced or re enamelled. Most bathroom sinks and toilets are made of porcelain. However the bath can be cast-iron, pressed steel, acrylic, fibreglass etc. A common question is "Can a Plastic Bath be resurfaced?" Absolutely it can.
Corner baths can be tricky but only due to their size. Some corner baths are really large and the dimensions can be difficult for the Bath Re enameller to access the whole bath. It's best to make specific enquiries from a specialist if you have a corner bath.
The fact that the resurfacing is normally done in situ means that the entire suite can be done in a day, and would be usable the next. None of the fixtures need to be removed. There is no need to replace any tiling or flooring. None of the plumbing is disconnected when the suite is re enamelled so there is no need to remove the bath panel (if there is one). etc. It is a lot less hassle than ripping out your suite, getting in different workmen and then re-fitting a new suite that often is nowhere near the quality of the suite you just threw away because it was grimy or  a strange shade of mustard.
If you are considering having your entire suite resurfaced then there are a few points to bear in mind:
The suite will be usable the day after it is resurfaced. If the WC that is part of the suite is the only one in the house, then you may need to make other arrangements for the period it is out of action.
Also, if the toilet seat in your bathroom is one which is likely to get treated roughly (i.e. you have children who may throw the seat down onto the pan), then you may wish to consider replacing the WC as the new surface may well chip were the toilet seat impacts on it with such force. Normal wear and tear however should not result in the toilet chipping.
It also important to note that chips or defects will show up more easily if the bath or suite is having a colour change. For example a recently resurfaced green bath in London was quite badly chipped around the plug hole but the owner had not noticed. The chips were not right down to the metal so it wasn't really obvious. As the owner was having her bath changed to white the same chips would be clearer. As soon as the plug chipped the bath it would be obvious. A new plug in the style of a chrome plug but made of rubber can be used to replace the plug and prevent future chipping.
Traditional bathroom suites or Art Deco style 1920's style suites often have elaborate or original taps. Often the bath is in need of re enamelling due to these old taps dripping constantly over the years. It would be a shame to have to get rid of these because the local plumber doesn't have the part anymore to repair the dripping tap.
Nowadays you can even send your old taps to a specialist to have restored and then either have the brass polished up to a beautiful finish or re chrome plated or nickel-plated. The overall effect is really lovely.
Contact The Bath Business , Bath Resurfacing and Enamel Bath Specialist about any bathroom improvements you wish to carry out.