Luxury Bathrooms Communal Style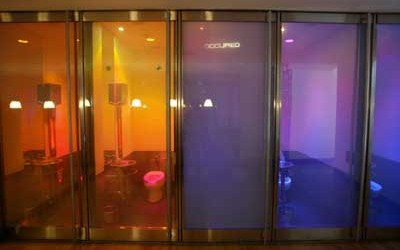 Most of us love the idea of relaxing in a luxury bathroom at home. A bespoke bathroom comes at a price and some of us may never experience our dream bathroom in our own home. Our desirefor luxury is not exclusive to our home environment however. When we go out we are no longer happy to put up with a dingy toilet tucked away at the back of the restaurant. If we do need to use the restroom we certainly don't want to come back feeling as if we should nip home for a shower. We want a luxury bathroom.
Photo Credit: Dolce&Gabbana GOLD S.r.l.
Above Dolce and Gabbana's Gold Room in Milan Italy.
Many Hotels, restaurant and Bars are not just providing excellent food and service. Some establishments are using their bathrooms as a marketing ploy to get the customers in. And we think it's working!
This restaurant, simply called GOLD does exactly what it says on the tin. You can even shop for food or desserts and take them away in chic gold shopping bags! It is certainly a opulent experience and the bathrooms match perfectly.
The bathroom has to be one of the best examples of a beautiful, opulent,communal bathroom. There are giant mirrors, marble counters and golden bamboo lining the walls. The stalls have plasma screens that play Goldfinger on a loop. THat has to get a smile even from hardened restauranteurs.
Knowing you are using a bathroom that has also hosted Kylie Minogue and Giselle among others may tempt you to spend a bit more time pampering yourself in the bathroom than you really should. The gourmet menu may well attract some to GOLD but the bathroom is probably just as effective at attracting new custom.There is no way you would come here and NOT go to the bathroom.
Photo credit: a chimerical plan blogspot
 Bar 89 in New York City is one of the more fun bathrooms. One suspects the very first clients of the bar to use the bathroom must have been very brave indeed. When you enter the bathroom the doors to the stalls are transparent. However once you enter the stall and close the door it turns opaque giving you the usual privacy required in such situations. Would anyone visit the Bar just to check out the bathrooms? Probably. If I happen to be lucky enough to go on a shopping trip to New-York I will definitely be dropping into this bar to check out the bathroom.
Photo credit: Flickr.com
This one is not so much luxurious but it is quirky. This is the restroom in the R BAR, Brighton, England. A gay bar in Brighton. Is it quirky enough to tempt straight customers? Would they come to check out the bathroom rather than the clientele? You tell me.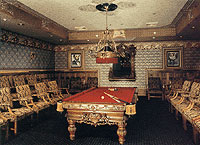 ,
Photo credit :bestrestrooms Flickr
The Shoji Tabuchi Theatre, Branson, Missouri is not only theatrical in its productions. The bathrooms are a sure show stopper as well. Winners of America's best restroom 2009 it's not difficult to see why. How many bathrooms have a pool table? Can you imagine going out with your other half and finding him getting waylaid here? I think this bathroom is possible too good.
Photo credit: bestrestrooms Flickr
The Hermitage Hotel in Nashville Tennessee is a breathtaking Hotel frequented by stars such as Issac Hayes and many Presidents. The bathroom is another winner of the coveted America's Best Restroom. It's an absolutely beautiful Art Deco style bathroom. Lime green fixtures, authentic terrazzo floor and even a shoeshine station! Afternoon tea at the Hotel and a trip to this bathroom would be a great treat. It's a man's world in this bathroom for sure but I LOVE it.
Most of these bathrooms would be impossible to emulate in your own home. They are good for getting ideas of style and decor. A GOLD theme or an Art Deco look can be achieved with relative ease. Contact The Bath Business if you would like to have a custom bath designed or help choosing taps for your new bathroom. We can be reached o 020 8634 5922 or email us at info@thebathbusiness.co.uk