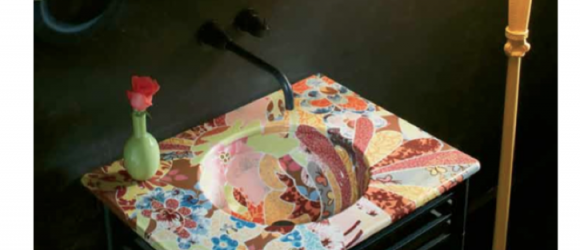 The Top Art™ Collection includes 4 exotic basins & countertops. This colorful range emanates both positive energy and playfulness into its surroundings. Vivid, contrasting colors and oversized patterns and mini-prints in are pieced together, taking inspiration from some of the most hip fashion trends and designer prints of today. These basin will certainly add some exotic style to your home.
These basins can be mounted on a console table or mounted onto an existing surface. As the basin and countertop are sold separately a bespoke and completely original look can be achieved.
Top Art™ Collection can be matched with some fantastic wall mounted basin taps to complete the look
Another benefit of the Top Art™ range is the fact that the basin and countertop are sold as separate items. This enables a bespoke bathroom combination to be created. For example the Zanzibar basin looks amazing with the complimenting countertop, but equally beautiful with the Congo countertop. Alternatively the basin can be mounted onto an already existing surface. The variations possible make for a truly unique bathroom setting.
If installing on a new base we recommend a wrought iron console table with glass shelf. W627 x H864 x D479mm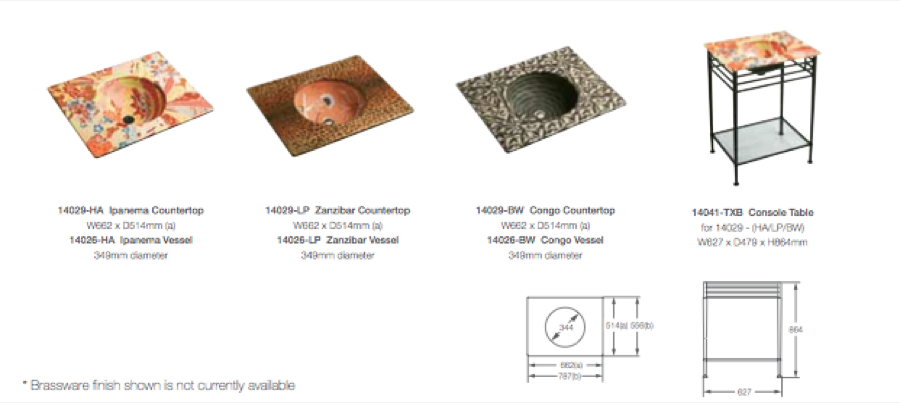 These basins are certainly well named. Which is your favourite?
Kohler Cast-iron Basins are available in a range of colours. For example the Murraya is available in Iron Cobalt as well as white whilst the Tableau is available in black, vapour green,vapour blue, vapour orange and vapour pink. Adding vibrancy, life and colour to your bathroom.

Another benefit is that the basins are made from 93% recycled and reclaimed materials. So as well as standing out for their sharp design quality they are eco friendly as well. The Cast Iron enamel surface is stain resistant, non porous and resists cracking and chips. The basins can be wall mounted or surface mounted. There are is a selection of very attractive wastes to choose from to complete the look.
Feel free to talk to one of our sales staff or call in if you have any questions what so ever about choosing the correct basin or matching accessories. ?We are hear to help and are happy to answer any questions you may have.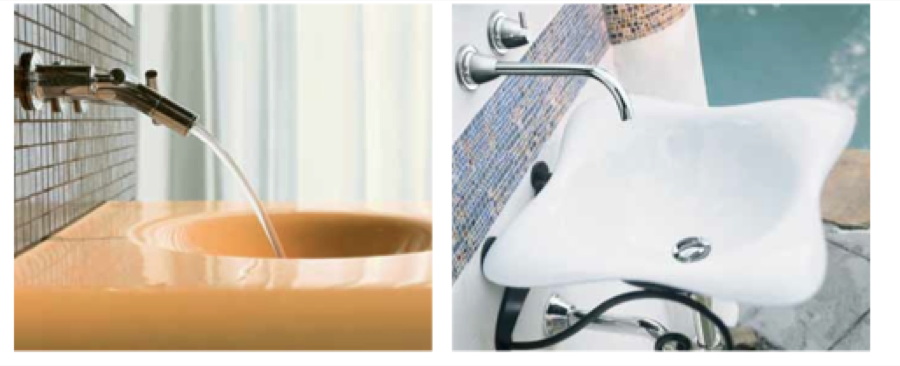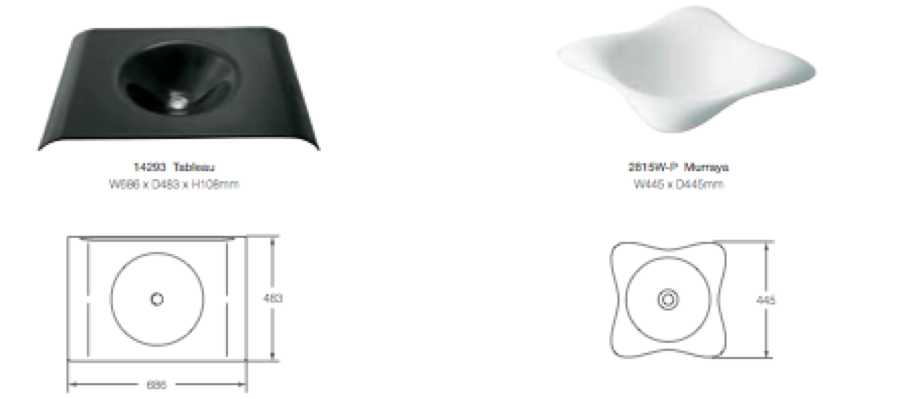 Do you LOVE or HATE these wash basins? Let us know.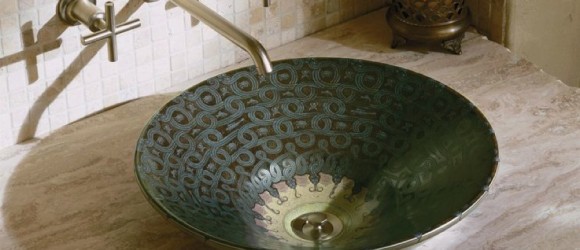 A beautiful and elegant alternative to a traditional wash basin. The variety and quality of finish is exquisite. The range looks fantastic in a traditional bathroom or a more modern setting and provides either an exotic look or a modern cutting edge look that stands out purely due to the quality of design. Just look at the designs on these wash basins! There are incredible fabrics and wallpapers available at the moment that would look incredible paired up with these basins. However the designs of these basins stand alone as centre pieces in their own right. Have a look at the wash basins individually in our shop.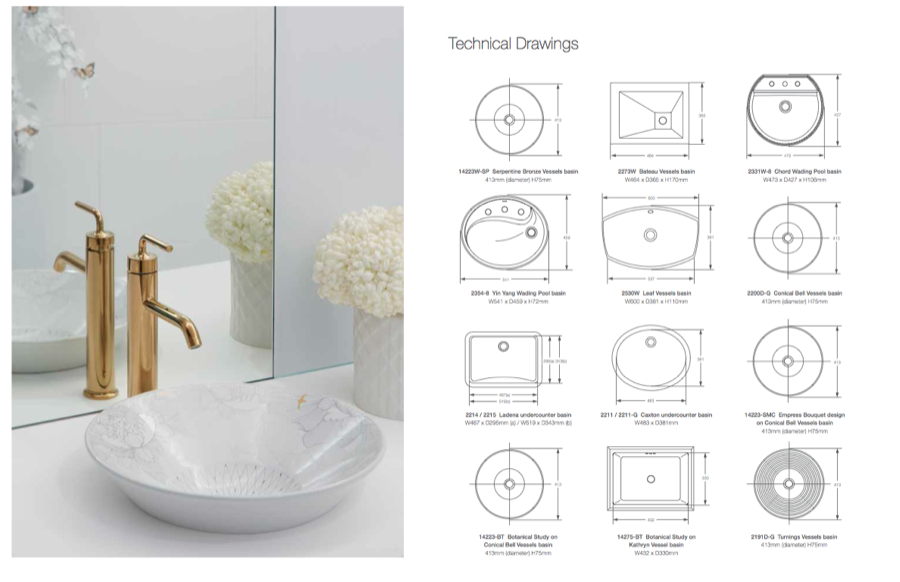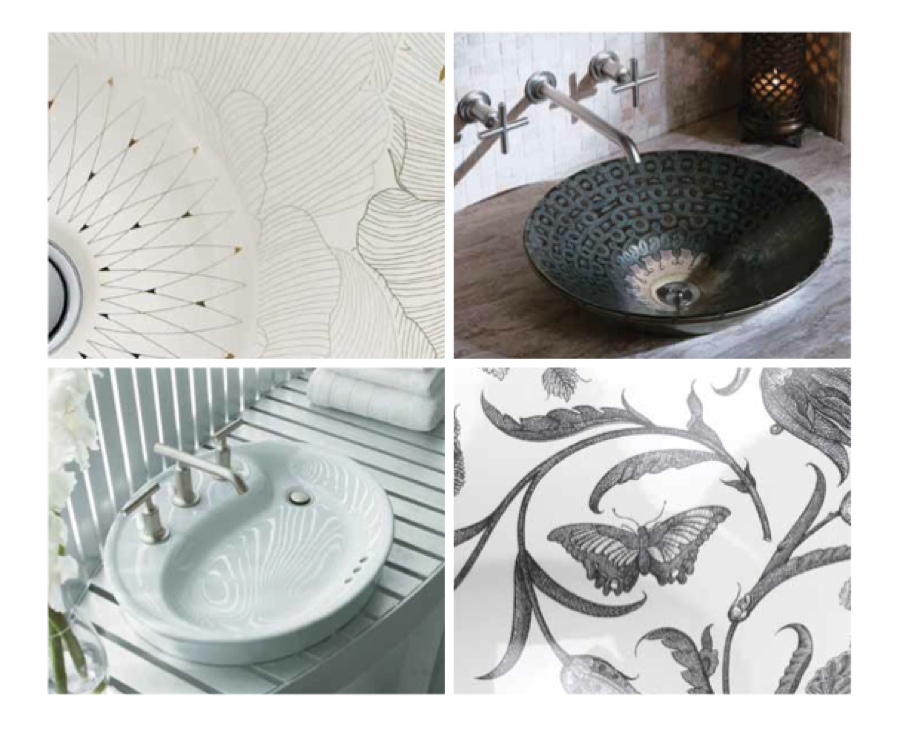 The Serpentine Vessel basin is one of 12 ceramic basins in this range. The  range spans from exotic and fun to cutting edge modern. As you can see there are several very different styles of wash basins to choose from. One of the many benefits is that each basin is finished inside and outside. Which means you have the versatility of mounting the basin on or under a countertop. Which is your favourite?