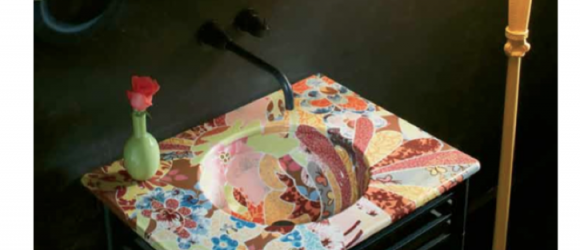 The Top Art™ Collection includes 4 exotic basins & countertops. This colorful range emanates both positive energy and playfulness into its surroundings. Vivid, contrasting colors and oversized patterns and mini-prints in are pieced together, taking inspiration from some of the most hip fashion trends and designer prints of today. These basin will certainly add some exotic style to your home.
These basins can be mounted on a console table or mounted onto an existing surface. As the basin and countertop are sold separately a bespoke and completely original look can be achieved.
Top Art™ Collection can be matched with some fantastic wall mounted basin taps to complete the look
Another benefit of the Top Art™ range is the fact that the basin and countertop are sold as separate items. This enables a bespoke bathroom combination to be created. For example the Zanzibar basin looks amazing with the complimenting countertop, but equally beautiful with the Congo countertop. Alternatively the basin can be mounted onto an already existing surface. The variations possible make for a truly unique bathroom setting.
If installing on a new base we recommend a wrought iron console table with glass shelf. W627 x H864 x D479mm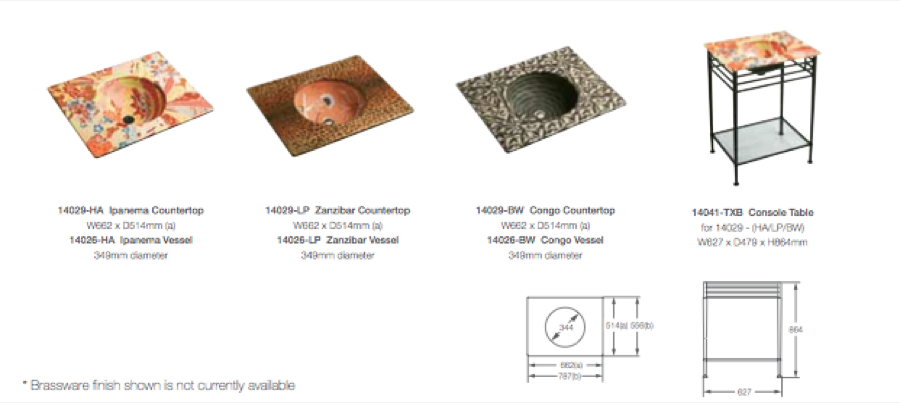 These basins are certainly well named. Which is your favourite?
Kohler Cast-iron Basins are available in a range of colours. For example the Murraya is available in Iron Cobalt as well as white whilst the Tableau is available in black, vapour green,vapour blue, vapour orange and vapour pink. Adding vibrancy, life and colour to your bathroom.

Another benefit is that the basins are made from 93% recycled and reclaimed materials. So as well as standing out for their sharp design quality they are eco friendly as well. The Cast Iron enamel surface is stain resistant, non porous and resists cracking and chips. The basins can be wall mounted or surface mounted. There are is a selection of very attractive wastes to choose from to complete the look.
Feel free to talk to one of our sales staff or call in if you have any questions what so ever about choosing the correct basin or matching accessories. ?We are hear to help and are happy to answer any questions you may have.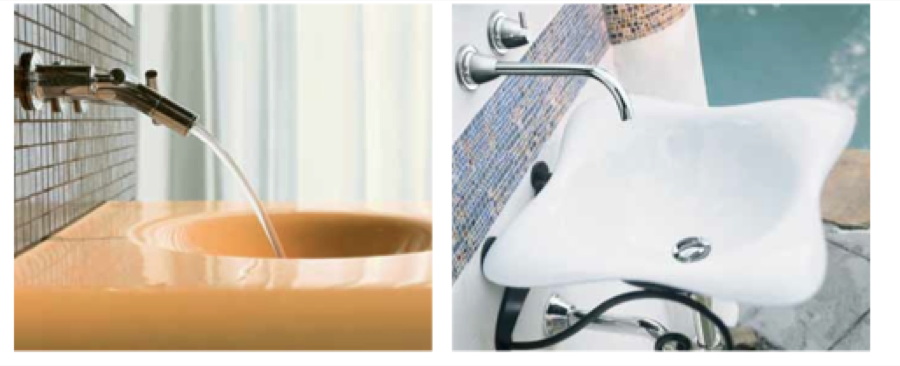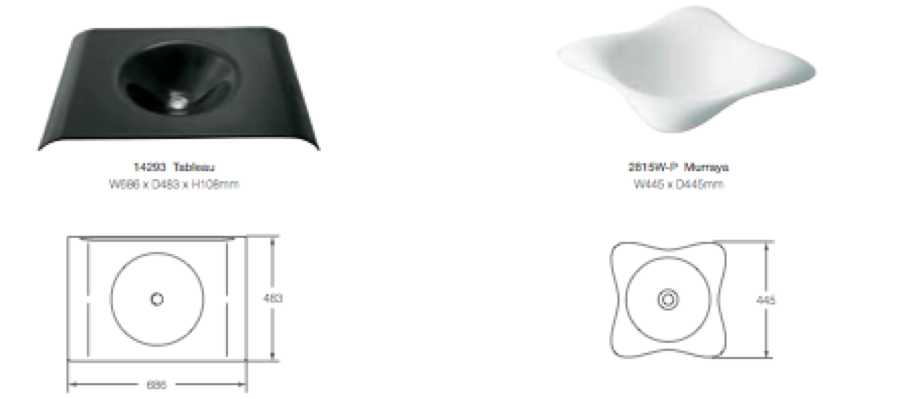 Do you LOVE or HATE these wash basins? Let us know.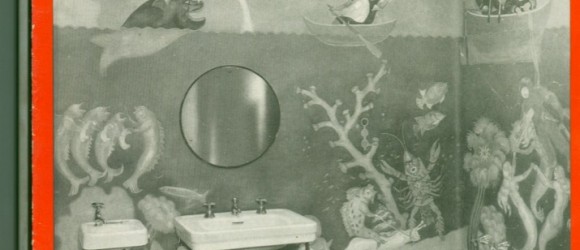 We are really looking forward to selling Kohler products from our new showroom. As a bit of a "pre-launch" we decided to write a bit about Kohler and it's History.
During the research process we found this brilliant article from Angela Miller. She bet us to it! So we thought we'd share the article with you.
Angela is busy rummaging through the Kohler Company archives to give us some information on their history. Lucky girl! The pictures are exciting.
It's always fun to look back at the history of a company but particularly interesting & informative when it's a company like Kohler. I hope you enjoy the article and the great old pictures particularly the pictures of some fantastic fine sanitary ware.
1933 – 1934: Kohler at the Chicago World's Fair

The Chicago World's Fair was huge. For those not quite into history the way I am (hey, it's my job), it can be difficult to comprehend the sheer size and impact the fair had on the world. It was 427 acres of innovation: new products, new buildings, and new ideas everywhere you turned.
The original Chicago World's Fair occurred in 1893. However, in 1933, the city decided to celebrate its centennial in a big way. This second fair was dubbed A Century of Progress International Exposition, a name chosen to show how scientific discoveries changed industry and everyday life.
The fair offered a chance for businesses like Kohler Co. to showcase their products to millions of tourists. The exposition, held in the middle of the Great Depression, was a symbol of hope for a more prosperous future.
Kohler Co. was feeling the effects of the Great Depression, but forged ahead anyway, with plans to construct a building that would showcase their latest innovations.  Plumbing, heating and power system products were on display in front of floor-to-ceiling images depicting Kohler factory life and the Village of Kohler.
The building itself was designed by world-renowned architect Ely Jacques Kahn, the same architect who used Kohler plumbing fixtures in a Metropolitan Museum of Art exhibit.  Kahn's building had a 132' long gallery, that displayed Kohler products along with model bathrooms. The highlight was a children's bathroom, a new and original idea at that time.
When the fair reopened in 1934, Kohler increased the size of the building, adding two large wings to the east and west sides and moving the entrance to a more prominent location on the main thoroughfare.  The new entrance walls featured murals by six artists that depicted scenes from places around the world where Kohler obtained its raw materials.
The murals impressed many visitors and caught the eye of the media.  The building itself, which embodied Kohler's view on the importance of art in industry, earned recognition in Architectural Forum magazine.
The fair finally closed on October 31, 1934, but not until after nearly 40 million people visited the sites. In a time of economic hardship, fair-goers walked away with a sense of  hope and the promise of future prosperity.
Share this:
Like this:
Be the first to like this post.
About Angela Miller
I am the historian digging through the corporate archives of Kohler Co.