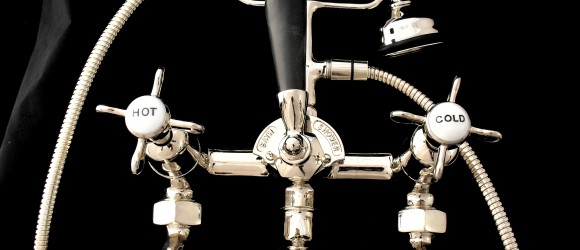 A very popular service we provide is tap refurbishment or reconditioning and re-plating. The finishes available for replating are CHROME, NICKEL and GOLD.
Our workshop has been refurbishing taps for over 20 years. Our clients base ranges from owners of traditional home owners, interior designers, fine country homes, Banking establishments and Royal Palaces.
We have facilities to restore and and re-plate Modern, Art Deco, Classic and Vintage taps. We mostly refurbish original Antique Victorian or Edwardian Taps. However we can restore and replate all types of mixer taps, bath taps, basin taps, chain stays, and other bathroom fittings. Below are some traditional lever taps refurbished and plated.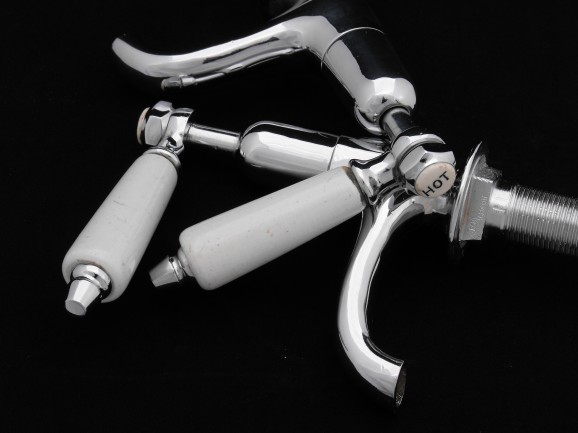 Sometimes the taps are that old and worn parts are impossible to find. In our facilities we will replace parts by making them if need be. We are confident that we can restore ALMOST any tap. And if we can't probably no one can.
If your waste or overflow is covered in lime-scale or tarnished we can refurbish and re-plate them if necessary. This is particularly helpful in antique baths where the wastes or overflows are often unusual sizes and are no longer available & cannot be replaced with new. On a re enamelled bath this can be the finishing touch to the bath that makes it pristine.
If your antique Victorian or Edwardian taps affected by lime-scale, hard to turn on or off or even not working at all then you can send them to us for restoration in our work shop. We aim to refurfish your taps so well they can be used for another 100 years!If you so wish we can then have them plated in Chrome, Nickel or Gold. Alternatively if the tap is originally a brass finish you can have the taps fully reconditoned and then polished. This is more popular with antique Victorian or Edwardian taps. They can look quite spectacular.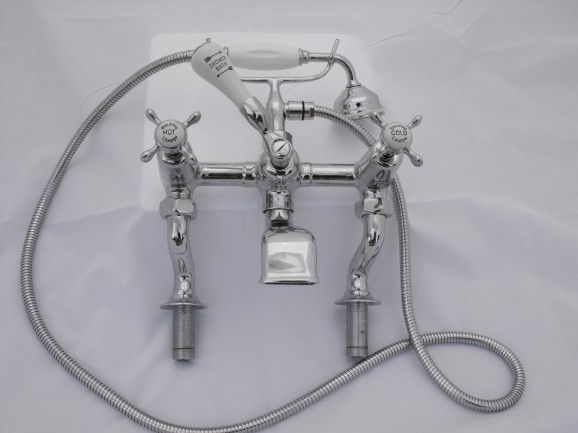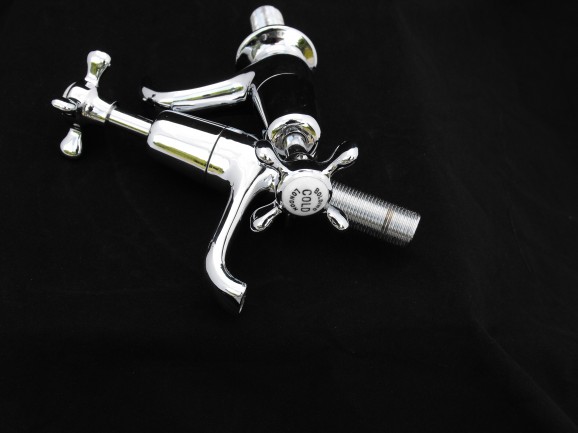 Above are John Bolding basin taps and John Bolding Bath/Shower mixer taps. These are rare taps and it's fantastic to have restored a matching set.
For the re-plating process the taps are taken apart completely and chemically stripped. The taps are then polished to a flawless finish before being re plated to the clients specification.
Chrome plating is very popular but Nickel plating proves the most popular for Victorian bathrooms. Chrome does give a mirror like finish whereas Nickel has a slight champagne hue to it. Traditionally taps would have been either brass or Nickel in Victorian or Edwardian times. Chrome began to be used in the mid to late 1920's with the advent of the ART DECO era. Below are some typical GLOBE TAPS that have been fully restored and plated. They could also have been finished in polished brass and would look equally fantastic.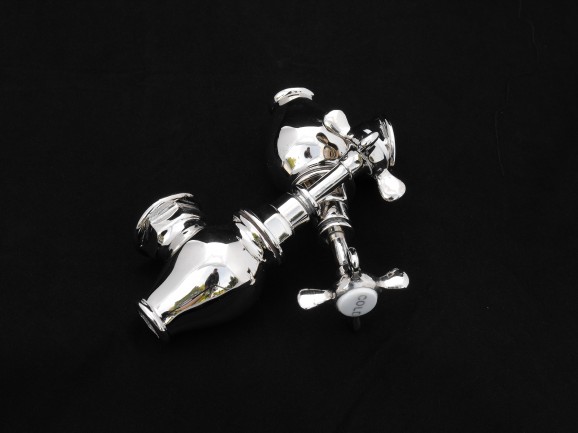 Once the taps have been restored and re plated we put them back together again and then test them for a second time to make sure they are working perfectly. We are very thorough in our testing regime.
We have restored Jacob Delafon, John Bolding & Sons, Thomas Crapper, Porche, George Jennings and Aston amongst others. Your original antique taps are in good hands.
For taps that are originally finished in brass you may wish to have them polished after refurbishment rather than have them re plated to chrome or nickel. A polished brass finish does require a lot more maintenance and polishing to keep them in the pristine condition you recieve them in. Due to this some of our clients prefer the Nickel over the Brass finish but both finishes look great in a traditional bathroom. Below is a traditional restored Bath/Shower Mixer tap in a polished brass finish.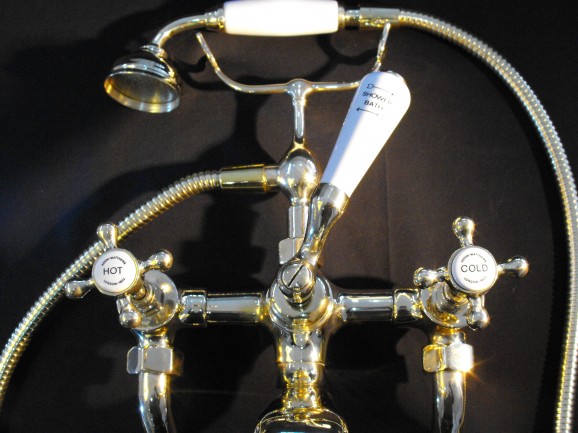 Whether you own a fantastic antique bath or wash hand basin with tarnished and worn taps or waste or a spectacular Art Deco bath with matching taps you can now use our refurbishing service to bring your fine sanitary ware back to it's full and former glory. You can even create a completly unique look can be created with a modern bath fitted with luxury antique taps fully restored.
We can also restore the feet on cast iron baths. Original Ball and Claw feet can come to look very old and rusty over time. Once we clean them up and Silver Nickel or Chrome plate them. They look absolutely stunning!
All the taps shown here are original taps we have refurbished and plated. They are all for sale now. Do fill out the quick quote form if any are of interrest to you.
You will require a plumber to remove your bath taps, basin taps or overflow and have them sent to our workshop if you require restoration services. Contact us via the quick quote form and we will provide you with a quote. If you can also email us a picture of your waste, overflow, taps or claw feet that would be most helpful. Our email address is thebathbusinessuk@hotmail.co.uk Alternatively call 01342324577 and ask to speak to Teresa Kane.