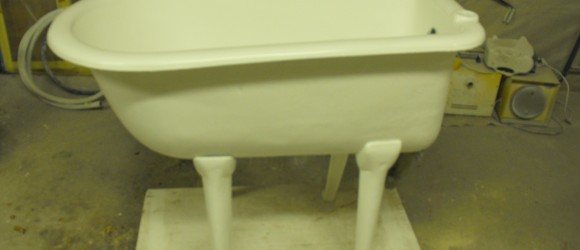 Here is a lovely little original Victorian Baby Bath we restored in our workshop.
These baby baths were originally used to bathe babies in hospitals all over the country. They are quite lovely. The unusual legs makes the bath an ideal size to bathe a baby in.  However when Hospitals were upgraded most were thrown out and modern bathrooms installed.
So this little baby bath is quite unusual now. As you can see the bath re enamelled inside and out along with the legs restored has put the bath into great condition.
This bath has beed put up FOR SALE by the client recently. So someone could purchase this for £2500 plus vat.
Contact The Bath Business on 01342324577  for more information.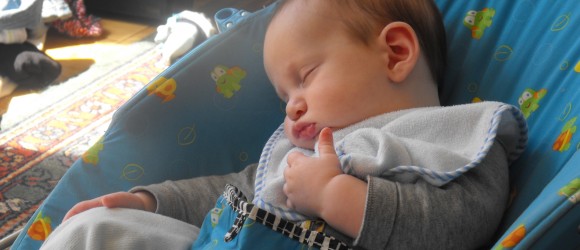 The blog has been somewhat neglected by The Bath Business this year.
The main reason was our new addition.
FINLAY MICHAEL MOFFAT. Born on the 3rd of January 2010 weighing in at a healthy 8 lb 13 oz  and a rather long 59cm.
Finlay has turned out to be charming little boy. He is very relaxed and good-natured. Like his bigger brother, Arran, he is also very physical and we don't think it will be many more weeks before he is walking around. His big brother Arran, who has recently turned 3 years old, is busy teaching Finlay everything he knows. Between them they are managing to keep us on our toes.
Here are some pictures of Finlay and Arran
The boys have not quite taken our full attention however. We have been extremely busy here at THE BATH BUSINESS. We have taken on three new chaps to help cope with the demand for our services. Rick, Richard and Dean. Another two very recently, Shaun and David. Our chaps are specialists and more than ready and able to restore your bath or bathroom suite to its former glory. Now we have even more coverage for London, Glasgow, Edinburgh, Brighton, Kent, Tunbridge Wells, Manchester, Birmingham Canterbury, Surrey as well as London and the home counties.
We have also opened a workshop in Horley, Surrey. This means we can restore your bath, wash basin, bidet or toilet at our workshop whilst you continue with your bathroom renovations. We are also providing BESPOKE Finishes for individual baths. This service is proving very popular, particularly with Interior Designers. Here are some pictures of some of our workshop work.
That's quite a bit to keep us busy but we decided we needed to provide even more services for our customers.
Frequently we are asked to restore or refurbish bathroom taps as they are stiff or dripping or simply lost their shine. We are often asked about chrome plating or nickel plating taps or even cast iron feet. We can do this now. Antique or original taps and feet on a bath can look wonderful when restored and doing so can provide the finishing touch to your renovation works.
As if that were not enough we are also busy restoring some original freestanding roll top baths. These are now up for SALE. Original and reproduction bathroom taps, wash basins and accessories are also available.
http://www.thebathbusiness.co.uk
So blogging, babies, boys, baths, basins, workmen, workshops, taps and twitter have kept us very busy so far this year. By the end of the year no doubt we will have even more to announce 🙂