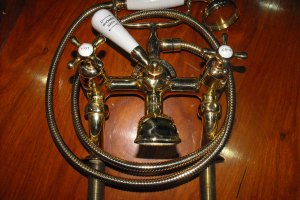 A couple from Norfolk had us resurface their old bath. They were delighted with the results.
They also wanted a badly damaged Bath Shower Mixer Tap restored by us. They just weren't sure it was going to be possible due to the condition of the taps. As you can see they are badly worn and affected by limescale.
The couple was doubtful we could restore the mixer for them but they sent the mixer to our workshop to see what we could do. Once the bath/shower mixer had been opened up it was very clear that it was badly damaged by lime scale deposits and did not work at all. A lot of work was required to bring them up to a point where not only would they look great but also they would be a functioning bath/shower mixer tap. Our tap reconditioning service is second to none and we knew had faith in our specialist technician to sort these taps out in the workshop- despite their condition. As it was a Samuel Heath Mixer Tap it was well worth restoring. It was an exact copy of an even older Aston mixer tap. At around 60 years old and clearly being used in a lime-scale area it definitely was in need of some restoration work.
This Mixer was completely disassembled. Then all the limescale had to be taken of every part, inside and out. Then broken parts had to be repaired . Once restored in the workshop the parts were all polished by machine and then put back together again. Finally the mixer was fully tested for efficiency and given a final polish. It's quite a transformation.
If you have taps, whether globe taps, Art Deco taps, Victorian basin or bath taps. Bath fillers or, as in the above case above, bath/shower mixer taps and you would love to have them refurbished, then let The Bath Business have a look at them for you. Even if you think the taps may not be salvageable it is worth asking us. We've surprised many a client with our restoration work. All we need is some pictures emailed over to thebathbusinessuk@hotmail.co.uk
If the taps are not a viable refurbishment project we will let you know and may even be able to provide a suitable replacement set of taps.  If they are worth restoring however we will let you know and get the refurbishment works completed as soon as possible. We work miracles on an almost daily basis. We'll do our utmost to give you back a lovely set of taps.
If you have lovely old Victorian or Edwardian Bath taps or a fine set of Art Deco bath filler taps or any lovely old taps that require restoring please let us know and we will provide you with a quote and then hopefully get you a set of taps that will continue to work for another 100 years to come.
Having your Bathroom Suite resurfaced should increase the value of your home.  It will help your suite look brand new, clean and fresh. At the very least new bathroom taps can help update and improve the bathroom in readiness of a quick sale.
Like many people, you may be looking to sell up and move house. If so, you'll want to ensure you give yourself the best possible chance of receiving or even exceeding the asking price for your current property.
Today's housing market is scary enough for most people. The possibilities of receiving a bid that matches or exceeds the value of your property can be impossible to obtain. If you are offering potential buyers exactly what they are looking for you are in with a chance of reaching your desired sale price. For example, a poorly decorated bath-room or a cluttered bedroom can often be enough to put off many people from considering an offer for your home. You might already be aware that certain areas of your house could benefit from being spruced up, but you simply can't afford the outlay required to renovate them. As a result, the offending room is often left in its existing condition additional items of furniture or bric-a-brac are utilized to hide the room's shortcomings. Quite frequently the offending room becomes a storage center.
Unfortunately, this might well end up costing you money & perhaps damaging the potential value of your property. However, this need not occur, especially if the difficulties are being caused by your bathroom.
As the bathroom is the most visited room in the house. Along with the Kitchen it is considered vital that the bathroom most impresses the buyer. If you have lived in your existing property for a number of years, there's a good chance that your bathroom will have remained the same since you first moved in. Perhaps you renovated it yourself years ago to suit your own tastes.
You might well think that having a pink sink and toilet is acceptable and common. There is nothing that will put off a potential buyer more than dated coloured sanitary-ware in a bathroom! Combine this with a dull, worn peach bath and you may as well wave your house sale goodbye.
Potential buyers have their own ideas with regards to their perfect bathroom. Factors such as flooring and types of storage are important to them. Many want a clean, modern or traditional Victorian white bathroom suite with chrome fittings and ample storage. Resurfacing a coloured suite to white can help achieve the look most buyers are looking for.
Regardless of different tastes the Bathroom must look clean and fresh. Even a nicely tiled and floored bath-room will not impress the buyers if the bath is worn, stained and looks dull or dirty. Even marked taps will put them off a potential sale. Luckily this is something that can be rectified fairly easily and not necessarily expensively.
Taste and style of baths or tap fittings can be as varied as the owners. Generally speaking, as long as your bathroom is clean and fresh looking with bright fixtures and fittings, a potential buyer will go away without having to worry about completely ripping out the bathroom and starting from scratch. By giving them something to work with, you are significantly increasing your chances of selling the property.
Achieving the above is not an expensive task. Resurfacing a complete bathroom suite can cost around £600. Not ripping out the old bathroom and not having to redecorate will save you not only in time and money but also a lot of organizing of different workmen and an awful lot hassle. So it's well worth doing. You may only need to have the bath resurfaced. In this instance it will only cost around £300 and you can end up with a lovely new looking bathroom.
Check http://tinyurl.com/2f69lks for a quote and information.

Once you bathroom suite is looking pristine again you can look at investing in some lovely accessories. This need not cost a lot of money and at least you can take these with you once you sell. Lovely luxury towels, some scented candles and other bath time accessories all help your potential buyer paint a picture of themselves relaxing comfortably in your bathroom.
If you're looking to sell your house over the next few weeks or months, make sure you take a good look around. Invite a neighbour or friend round to gauge their opinion before you put your home on the property market. Get several estate agents around to gauge their opinion also. It is their job to help you sell and a good agent will give good advice.  Do clear out all your clutter. Remember, a pink bathroom might be gorgeous to you, but to a potential buyer, it might not be as desirable.
If at the end of the day if you decide not to sell all is not lost. You will have a lovely luxurious bathroom to relax in. It will not have cost a fortune to accomplish & it will be very likely that your home will have increased in value due to the small amount of renovation work carried out. It really is a "win, win" scenario. A glass of something nice might be in order whilst you relax in your bathtub.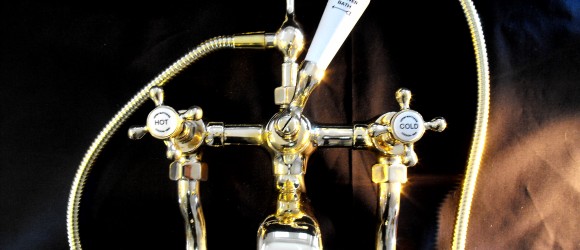 Here is a lovely "CHUNKY" Aston Matthews Shower Mixer Tap retailing at £380 plus vat
The Shower/Bath handle is ceramic and both cross handles have the HOT and COLD indices respectively. The Mixer is finished in polished Brass which is very attractive. A silver Nickel or chrome finish can also be achieved if desired.
The Shower Mixer can be fixed to the bath by a qualified plumber or, if you prefer, the Mixer can be mounted on a Stand to make them Deck Mounted. Our workshop technician can also make you a bespoke brass stand for them if you desire.
Contact  The Bath Business directly for more information on original antique taps for sale.