Bespoke Bath. White To Fluorescent.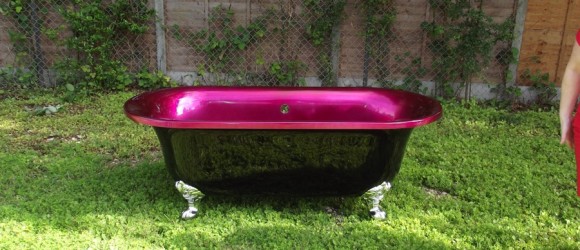 Custom Bath.
White To Fluorescent Bath Service.
The pictures here are of some plain, white, acrylic baths which we have customised for a Interior Designer.
Each of them has had a different bespoke finish applied making each a unique bath.
The back story here is that a Designer needed 4 baths for a project she was working on in the Notting Hill area of central London. We have done work for this lady before. She seems to gravitate toward the unusual and colourful, which means each project we work on for her tends to be very different, to say the least.
Two of the baths had to be received at the workshop, finishes applied inside and out and the baths delivered to Notting Hill on the morning of the fifth day as her deadline was very tight.These baths would need to be fitted on that the 5th day.
The Designer gave us an idea of what she was after in terms of the look she wanted and we showed her some of the finishes that might suit her purpose.
She picked 4 different interior finishes she wanted and specified the exteriors for the 2 rush baths. She still needed to work out what finishes would be best for the remaining 2 baths so we would have to just hang fire there until this is decided.
All of this was done by phone, email and internet which keeps everything very convenient (we had done a bespoke bath for a project in the south of France for the same designer and again everything was done over internet and phones. Being able to work in this way saves a lot of time and expense and simplifies getting the job done for our clients.)This service can be provided to designers where ever they are in the country-or even the World!We do more work for Interior Designers in London but we can provide this service if you are in Edinburgh, Glasgow or New-York!
The baths were delivered on the Monday morning to our workshop and we got cracking.
The two rush baths were finished on Friday morning and the courier turned up at 9:30am to collect them and they were delivered to the project in London before lunch. We should get some pictures of the baths in their final locations and if it's fine with the client we'll post them here.
The client LOVED them and asked us to do the other two as soon as possible. The outside was still to be a gloss black but the interior was again done in a very interesting finish.
We really enjoyed doing these baths because they are fun and different. I especially like the fact they are as subtle and retiring as a train crash.
We hope this is a service which other Designers would be interested in and so we have been trying to think of a name for it that would, in itself, tell people (or at least give them an idea of) what it is we are doing. I also wanted to call the customised baths something which communicated the reaction people have when first seeing such a bath. So far this has involved the use of expletives: "* me! Is that a *! bath!!" And so on. Haven't shown loads of people yet, but of the few so far this has seemed to be the most common reaction.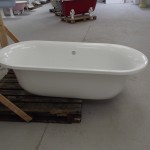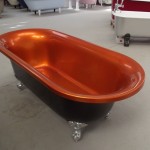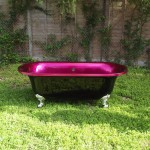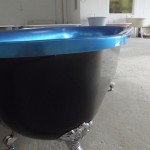 So I was going for something a bit earthy or fruity. However, the office staff, who despite being the salt of the earth etc, etc, blah blah blah, seem to have the collective sense of fun and irreverence usually associated with a funeral. And as a result any of my suggestions of a risque nature were shot down in flames as being "inappropriate and not in keeping with the clientele we service". There was a lot of discomfort and much twisting of pearl necklaces at some of the suggestions I had.
Eventually, in an attempt to appease, I suggested we call it the: "White To Fluorescent Bath service" which seemed to be acceptable to the office despite the fact it is really more a description than a name, and it's not even an accurate description because we don't make the baths fluorescent. But it does gives an idea of what we are doing and the good ladies seemed happy with it and felt it was something they could say to customers without blushing. One of them said it seemed a bit of a mouthful so I suggested they just abbreviate it and, again, that seemed satisfactory to all concerned.
If you are putting together a bathroom for a client (or even for yourself) and need a custom bath for your design plans then please get in touch on 020 8634 5922 and lets see what we could do for you.
Just tell the lady on the end of the phone that you are interested in the WTF Bath Service and they will be more than happy to discuss matters.
John. Head Technician
Note from the good ladies in the office.
John is not quite as funny as he thinks he is and we are not quite as silly either. WTF.Hmmm.