Bath Re-enamelling Highly Recommended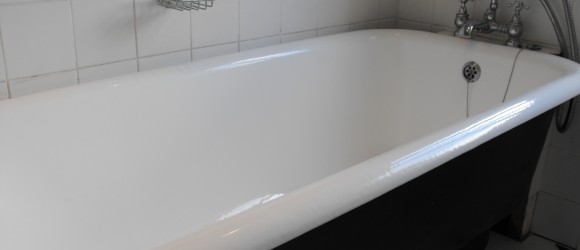 Here is an email we received yesterday about our bath re enamelling work.
"Today we had our ancient turquoise bath restored.
Quite apart from being very pleased with the result, we wanted you to know how well the young man who came to do the job represented the firm.
Despite the snowy, icy, weather, he arrived exactly on time, always a good start!
He was quick, clean, ( faster than me with the dust sheets); and extremely pleasant;  easily the most acceptable tradesman ever to enter this house, and we have lived here for 25 years.
 
We shall have no hesitation in recommending your firm to any of our acquaintances who have reason to be interested.
 
Regards
 
Renee and John McDowall"
North London
We get a lot of lovely emails recommending our Bath Re enamelling and restoration work from London, Brighton, Kent, Surrey, Edinburgh and Glasgow. We are very proud of this.
You can read a few more of our reviews on our "What Our Clients Say About Us"  page.
For more information on bath Re enamelling or bathroom renovation work please contact us on http://www.thebathbusiness.co.uk or call 01342324577 to speak to one of our Office staff.