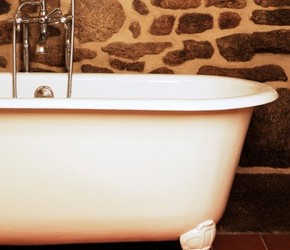 Due to increased demands, The Bath Business are now offering the full range of services to provide a bespoke bathroom thanks to its new workshop facility.
London, Brighton, Surrey, Kent, East Grinstead, West Sussex, Glasgow, Edinburgh, – The Bath Business – the UKs leading bath resurfacing , re-enamelling & restoration company announced today, that due to increased demand, they have opened a new workshop in High Hurstwood, East Sussex.
The new workshop will accommodate services such as: bath restoration, bath re-enamelling, bath resurfacing, tap restoration, bathroom tap re plating, claw foot restoration, custom bath restoration, chip repairs as well as colour changes to baths and bathroom suites.
Interior design services are now available thanks to the new workshop where the finish on baths, sinks, toilets, shower trays and bidets can be customized to create a unique and bespoke bathroom.
"We wanted to offer a more complete restoration service for our clients. Services such as restoring broken claw feet or re plating taps as well as simply re enamelling a cast iron bath are now possible in our workshop facility. We can liaise with interior designers and help our clients create beautiful bathrooms. We can also trial new procedures in our new workshop which means we will be able to constantly provide the most up to date and advanced services available. We are pleased to announce we can now offer all the existing and brand new services that we currently deliver in London and throughout the rest of the UK in our new workshop," said John Moffat, The Bath Business Director.
The company aims to make bath restoration a more popular Eco friendly desirable proposition than bath replacement would be. Bath restoration is more satisfying and eco-friendly, reducing wastage of material across the UK. 
About Us:
The Bath Business is a well – established family – run company that comprises a team of highly trained professional technicians working throughout London, the South East of England as well as Scotland.  They have been resurfacing, re-enamelling and restoring baths and bathrooms since 1986. The company uses the highest quality materials available and constantly tests and works on perfecting and improving the resurfacing service they deliver.  The Bath Business is known for its excellent, friendly customer care and after service.
For more information please contact:
Teresa Kane
Marketing Director
The Bath Business
15 Southlands
East Grinstead
West Sussex
RH19 4DB
01342 324577
07967 333030
thebathbusinessuk@hotmail.co.uk