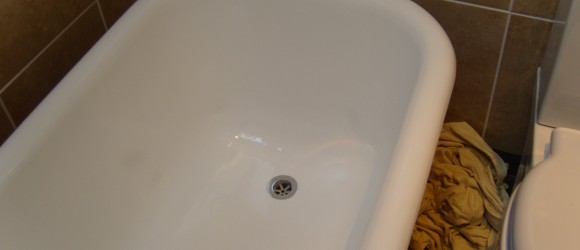 04/02/09
I travelled all the way to Sheffield today. It looks like they had had a lot of snow. We have employed a chap to cover this area specifically but I do like to do the odd job myself, especially when we are really busy. Sheffield is really rather nice.
I got to the job. A very pretty roll-top bath from 1928 was the bath to be resurfaced. It was in excellent condition too. But the customer wanted the holes for the taps filled and that area to look like it had never had taps. He had the new taps coming in over the side of the bath from above. So I filled the holes and resurfaced the bath. Can you tell where the tap holes where? I hop not.
The house was having a lot of work done to it; an extension being added and so on. One of the sparkies said something to me I didn't catch. I asked him what he'd said. He laughed and said (refering to my Scottish accent), "Tha' talks worst than ma!"  "Black", "kettle", "pot" and "calling" are some words which spring to mind. And most people think i sound American!
Heading back to the motorway from Sheffield, you pass a church with a crooked spire. I hope you can make it out in the picture. I am pretty sure the spire is meant to be like this.Quite a sight. Does anyone have any information on that Church spire?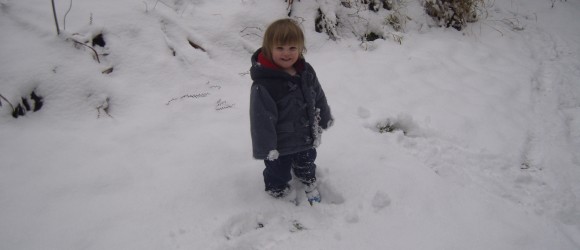 2/2/09
Like a few million other people, I didn't make it to work today. At the start of my journey, the snow didn't seem that bad. Headed up the M23 to get onto the M25. Couldn't get onto the M25. Believe there had been a number of jack-knifed lorries which had closed the road completely.
Decided to try using smaller roads. At first this was fine but gradually the tarmac was disappearing under snow and eventually it was getting hard to see where the road actually was. But I still thought I would make it to the job.
Then came to a queue of cars. There was quite a steep hill up ahead, and people were trying, and failing to make it up. It was now about 10:30am and I had been travelling for over 2 hours and had failed to get 20 miles from home. So I turned around and headed home. I ended up playing in the snow with my son, Arran. As you can see he thought it was great fun!